WarFoundry is a cross-platform, multi-game system, open-source army creation application.
What is WarFoundry?

WarFoundry is a cross-platform, multi-game system, open-source army creation application. That's a lot of words, but what does it mean? Basically, WarFoundry is:
An application to help build and create rosters or lists for your armies
An application that should be flexible enough to work with any game system (including but not limited to Warhammer, Warhammer 40,000, Warmachine, Confrontation and others)
Compatible with all major operating systems (Windows, Mac OS X, Linux, plus Solaris, BSD and potentially mobile devices)
Free to use ('free as in beer')
Free to redistribute and modify ('free as in speech')
Development
WarFoundry is in an early beta stage, but under heavily development. The developers need any kind of feedback. So if you're interested in an open source tool for your army creation, be sure to check it out. The tool is already translated into a couple of languages. If you have any feedback or would like to help with a missing translation, you can leave it directly on their page or send a T³-admin a message. There's a page where you can find information about how you can
get involved
.
Supported games
WarFoundry is - like T³ - not limited to any game system. In the early stage development for the major tabletops has started. You can find out more at
a dedicated Yahoo group
. The data files are simple zip archives containing plain XML files. So basically anyone can create his own data files with a text editor and something to create a zip archive.
Screenshot(s)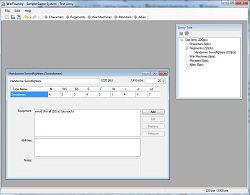 Get it and help testing

You can download the current development/testing release from the
WarFoundry download section
. Keep in mind that it is still a very early development phase and you cannot compare it directly to any current army creation tool. Any testing of you is highly appreciated. We'll keep you updated on any major release step.